The 4th SARD Workshop
Workshop Theme:
Who are really satisfying the Asian market needs?
Exploring the realities of the international retail competition in the host country
Date: November 24 - 26, 2006
Venue: University of Marketing and Distribution Sciences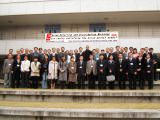 Participants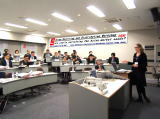 Session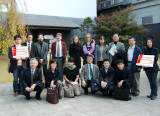 Study Tour
Program for the 4th SARD Workshop in November 2006.
More than two years have passed after the 3rd SARD workshop held in 2003, in Korea. This year the University of Marketing and Distribution Sciences has established the Center of Asian Retailing and Distribution for Research and Exchange (CARD) to promote distribution research and education based on the network within Asian countries. And the SARD (present chairman, Professor Masao Mukoyama) workshop has come to be resumed this autumn under the complete backup of the CARD. We are looking forward to seeing you in the workshop.
Theme of the Workshop
It is a well-known fact that after the 1990's the leading international retailers have positioned the Asian market as the most important markets together with the Eastern European market and have advanced aggressively into these areas. With the situation that the leading international companies advanced into these countries of unmature distribution systems, many people might have predicted that the host market would have been completely dominated by these non-Asian leading retailers.
In fact some international retailers have occupied quite a large part of the local market as predicted. But in many cases they have had a tough ride unexpectedly. As a result, Carrefour has decided to withdraw from the Japanese and Korean market and to cease the supermarket business in China. Also Tesco has pulled out of Taiwan. Similar cases are increasing and Asian market is drawing attention of researchers as a new area of research (international divestment, de-internationalization). Although it is not easy to judge whether such a case is a failure or not, it is becoming clear that the local players in the host market are more formidable and ready to learn than expected.
So far only the strengths of the leading international retailers has been emphasized in the research literature, this conference is aimed to analyze the severe competition stirred up between international retailers and local retailers/players, with focus on learning behavior, resources, expertise, and marketing strategy and etc. of the local retailers/players.